CounselWeb and its on-line services for lawyers have been featured in articles in the May 1997 issue of California Lawyer and the Spring 1997 issue of Cyber Esq (the technology supplement to the Los Angeles Daily Journal, the San Francisco Daily Journal, the Washington Journal, the Colorado Journal, the Arizona Journal, the Nevada Journal, and the Daily Recorder).
Specialized E-Mail Addresses
Let your e-mail address identify your specialty, not your internet provider. CounselWeb has registered over 80 legal-related domain names and can upgrade your e-mail address to
yourname@litigation.net

yourname@businesslaw.net

yourname@familylaw.net

yourname@employmentlaw.net

yourname@criminallaw.net
and many others.
You need not change internet providers to use a customized CounselWeb e-mail address -- these legal-related e-mail addresses work with any e-mail account. Once you sign up, e-mail sent to your CounselWeb e-mail address will be instantly forwarded to your existing e-mail account. This gives you a professional e-mail name that works with any e-mail provider. CounselWeb e-mail addresses are also permanent; you can change your internet providers without changing your e-mail address. If you later change providers, we can simply forward your e-mail to your new address. Detailed information here.
Matching Specialized Web Pages
CounselWeb also hosts specialized webpages that match your CounselWeb e-mail address. You webpage address can be
www.litigation.net/yourname

www.businesslaw.net/yourname

www.familylaw.net/yourname

www.employmentlaw.net/yourname

www.criminallaw.net/yourname
Alternatively, we can register your firm name. Your webpage address will be
www.yourfirm.com
Why have a webpage at an incomprehensible address? Your webpage URL should identify your legal specialty or your firm, not your internet provider. Full info here.
E-Mail Discussion Lists
Use the internet to discuss topics with other lawyers in your practice areas. CounselWeb has set up over 2000 e-mail discussion lists covering 52 major areas of the law. There is no charge to participate, and you can sign up using our on-line registration form. Approximately 2,000 lawyers have already signed up. For compte information, visit CounselWeb's Legal Discussion List Website.
Practice Area Web Pages - Coming Soon
Find information about different areas of the law. Each webpage contains topic specific information, links to lawyers practicing in that area, and other valuable information. Info here.
---
CounselWeb
3461 Grandview Avenue
Los Angeles, CA 90066
(310) 915-9770
---
Looking for snap-on e-mail and webpages for non-lawyers? Check out IdentityWeb, home of over 200 non-legal domain names. Now offering free webpages.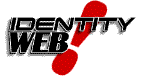 ---
Site last updated April 21, 1998.
Send questions or comments to