The Legal Discussion List Center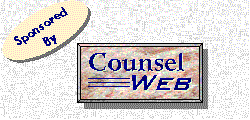 ---
Home FAQs E-Mail Sign Up Instructions CounselWeb's Homepage
---
CounselWeb's Legal Discussion List Center contains over 2000 e-mail discussion lists covering 52 different areas of the law. Participating in legal discussion lists is an excellent way to meet other lawyers who practice in your area and to discuss new cases or other legal topics. Well over 1,000 lawyers have currently signed up for these lists.
(These lists are sponsored by Counselweb, a company providing internet services for lawyers and clients, including customized e-mail addresses at over 80 Legal domain names, individual and firm webpages, practice-area webpages, and more.)
Most of these lists include a general discussion list and state lists (including the District of Columbia).
You can subscribe to the lists by e-mail or by using our simple webpage sign-up forms below.
Any member of a discussion list can send an e-mail to the list. This e-mail message is then automatically distibuted to all of the members of the list. Other members can reply, and this reply too is sent to all list members. This is a great way to have an e-mail discussion with many other lawyers practising in your area of the law.
There is no charge to participate in these lists. Once you sign up, you will receive an e-mail with instructions on using the discussion list. The e-mail also contains instructions on how to unsubscribe from the list as well.
Please note: no unsolicited commercial e-mails are permitted on the lists. Anyone "spamming" will be removed from the lists.
CounselWeb considers the names and e-mail addresses of the members of these discussion lists to be confidential. We do not sell or provide these names or e-mail addresses to other companies.
More questions? See our FAQ page.
To sign up for one or more of these discussion lists, click on the topic area below. This will take you to an online-sign up form. Once you have signed up, use the back-arrow on your web browser to return to this page.
General Procedural Lists
Litigation - 141 lists (A general list, 89 federal district court lists, and 51 state lists.)
Appellate Law - 66 lists (A general list, U.S. Supreme Court list, 13 federal lists (all 11 numbered federal circuits, the DC Circuit, and the Federal Circuit), and 51 state lists.)
Small Claims - 52 lists (A general list and 51 state lists.)
ADR Lists
Arbitration - 52 lists (A general list and 51 state lists.)
Mediation - 52 lists (A general list and 51 state lists.)
Substantive Law Lists
Accident Law - 52 lists (A general list and 51 state lists.)
Admiralty Law - 1 list (A general list)
Adoption Law - 52 lists (A general list and 51 state lists.)
Antitrust Law - 52 lists (A general list and 51 state lists.)
Aviation Law - 1 list (A general list)
Bankruptcy Law - 6 lists (A general list, and a list for Chapters 7, 9, 11, 12, 13.)
Business Law - 52 lists (A general list and 51 state lists.)
Child Law - 52 lists (A general list and 51 state lists.)
Civil Rights Law - 52 lists (A general list and 51 state lists.)
Collections Law - 52 lists (A general list and 51 state lists.)
Commercial Law - 12 lists (A general list, and a list for UCC Articles 2, 2A, 3, 4, 4A, 5, 6, 7, 8, 9, and proposed UCC Article 2B.)
Computer Law - 1 list (A general list)
Constitutional Law - 58 lists (A general list, 51 state lists, and a list for governmental powers, federalism, the second amendment, criminal rights, economic liberties, and the fourteenth amendment.)
Construction Law - 52 lists (A general list and 51 state lists.)
Consumer Law - 52 lists (A general list and 51 state lists.)
Contract Law - 52 lists (A general list and 51 state lists.)
Copyright Law - 1 list (A general list)
Corporate Law - 52 lists (A general list and 51 state lists.)
Criminal Law - 52 lists (A general list and 51 state lists.)
Disability Law - 52 lists (A general list and 51 state lists.)
DUI Law - 52 lists (A general list and 51 state lists.)
Education Law - 52 lists (A general list and 51 state lists.)
Elder Law - 52 lists (A general list and 51 state lists.)
Election Law - 52 lists (A general list and 51 state lists.)
Employment Law - 52 lists (A general list and 51 state lists.)
Entertainment Law - 6 lists (A general list and a list for movies, music, sports, theater, and television.)
Environmental Law - 52 lists (A general list and 51 state lists.)
ERISA Law - 1 list (A general list)
Family Law - 52 lists (A general list and 51 state lists.)
First Amendment Law - 2 lists (A free speech clause list and a religion clauses list.)
Healthcare Law - 52 lists (A general list and 51 state lists.)
Immigration Law - 1 list (A general list.)
Insurance Law - 52 lists (A general list and 51 state lists.)
International Law - 1 list (A general list)
Labor Law - 52 lists (A general list and 51 state lists.)
Legal Ethics - 52 lists (A general list and 51 state lists.)
Medical Malpractice Law - 52 lists (A general list and 51 state lists.)
Municipal Law - 52 lists (A general list and 51 state lists.)
Patent Law - 1 list (A general list.)
Probate Law - 52 lists (A general list and 51 state lists.)
Real Estate Law - 52 lists (A general list and 51 state lists.)
Securities Law - 54 lists (A general securities litigation list, a general securities registration list, a general securities arbitration list, and 51 securities arbitration state lists.)
Tax Law - 52 lists (A general list and 51 state lists.)
Torts Law - 52 lists (A general list and 51 state lists.)
Trademark Law - 1 list (A general list.)
Trusts and Estates Law - 52 lists (A general list and 51 state lists.)
Workers Compensation Law - 52 lists (A general list and 51 state lists.)
---
Home FAQs E-Mail Sign Up Instructions CounselWeb's Homepage
---
discussion list e-mail majordomo listserve litigation federal state district court appellate law appeals Supreme Court First law legal discussion list e-mail majordomo listserve litigation federal state district court appellate law appeals Supreme Court First Circuit Second Circuit Third Circuit Fourth Circuit Fifth Circuit Sixth Circuit Seventh Circuit Eighth Circuit Ninth Circuit Tenth Circuit Eleventh Circuit Federal Circuit D.C. Circuit Supreme Court A.D.R. Alternative Dispute Resolution arbitration mediation admiralty law maritime law bankruptcy law chapter 7 chapter 9 chapter 11 chapter 12 chapter 13 business law child law civil Rights Law commercial Law U.C.C. article 2 article 3 article 4 article 5 article 6 article 7 article 8 article 9 corporate Law Copyright Law Disability Law Employment Law labor law environmental Law Family Law First Amendment Law Establishment Clause Free Exercise Clause Free Speech Clause First Amendment immigration Law personal injury Law insurance Law international Law Patent Law Real Estate Law Tax Law Trademark Law intellectual property Trusts and Estates Law Workers Compensation discussion list legal lawyers Aviation Law Computer Law Construction Law Education Law Entertainment Law ERISA Law Franchise Law Healthcare Law Legal Ethics Medical Malpractice Law Municipal Law Securities Law securities litigation, securities registration securities arbitration Sports Law law legal Circuit Second Circuit Third Circuit Fourth Circuit Fifth Circuit Sixth Circuit Seventh Circuit Eighth Circuit Ninth Circuit Tenth Circuit Eleventh Circuit Federal Circuit D.C. Circuit Supreme Court A.D.R. Alternative Dispute Resolution arbitration mediation admiralty law maritime law bankruptcy law chapter 7 chapter 9 chapter 11 chapter 12 chapter 13 business law child law civil Rights Law commercial Law U.C.C. article 2 article 3 article 4 article 5 article 6 article 7 article 8 article 9 corporate Law Copyright Law Disability Law Employment Law labor law environmental Law Family Law First Amendment Law Establishment Clause Free Exercise Clause Free Speech Clause First Amendment immigration Law personal injury Law insurance Law international Law Patent Law Real Estate Law Tax Law Trademark Law intellectual property Trusts and Estates Law Workers Compensation discussion list legal lawyers Aviation Law Computer Law Construction Law Education Law Entertainment Law ERISA Law Franchise Law Healthcare Law Legal Ethics Medical Malpractice Law Municipal Law Securities Law securities litigation, securities registration securities arbitration Sports Law law legal discussion list e-mail majordomo listserve litigation federal state district court appellate law appeals Supreme Court First Circuit Second Circuit Third Circuit Fourth Circuit Fifth Circuit Sixth Circuit Seventh Circuit Eighth Circuit Ninth Circuit Tenth Circuit Eleventh Circuit Federal Circuit D.C. Circuit Supreme Court A.D.R. Alternative Dispute Resolution arbitration mediation admiralty law maritime law bankruptcy law chapter 7 chapter 9 chapter 11 chapter 12 chapter 13 business law child law civil Rights Law commercial Law U.C.C. article 2 article 3 article 4 article 5 article 6 article 7 article 8 article 9 corporate Law Copyright Law Disability Law Employment Law labor law environmental Law Family Law First Amendment Law Establishment Clause Free Exercise Clause Free Speech Clause First Amendment immigration Law personal injury Law insurance Law international Law Patent Law Real Estate Law Tax Law Trademark Law intellectual property Trusts and Estates Law Workers Compensation discussion list legal lawyers Aviation Law Computer Law Construction Law Education Law Entertainment Law ERISA Law Franchise Law Healthcare Law Legal Ethics Medical Malpractice Law Municipal Law Securities Law securities litigation, securities registration securities arbitration Sports Law law legal discussion list e-mail majordomo listserve litigation federal state district court appellate law appeals Supreme Court First Circuit Second Circuit Third Circuit Fourth Circuit Fifth Circuit Sixth Circuit Seventh Circuit Eighth Circuit Ninth Circuit Tenth Circuit Eleventh Circuit Federal Circuit D.C. Circuit Supreme Court A.D.R. Alternative Dispute Resolution arbitration mediation admiralty law maritime law bankruptcy law chapter 7 chapter 9 chapter 11 chapter 12 chapter 13 business law child law civil Rights Law commercial Law U.C.C. article 2 article 3 article 4 article 5 article 6 article 7 article 8 article 9 corporate Law Copyright Law Disability Law Employment Law labor law environmental Law Family Law First Amendment Law Establishment Clause Free Exercise Clause Free Speech Clause First Amendment immigration Law personal injury Law insurance Law international Law Patent Law Real Estate Law Tax Law Trademark Law intellectual property Trusts and Estates Law Workers Compensation discussion list legal lawyers Aviation Law Computer Law Construction Law Education Law Entertainment Law ERISA Law Franchise Law Healthcare Law Legal Ethics Medical Malpractice Law Municipal Law Securities Law securities litigation, securities registration securities arbitration Sports Law